Week 3
04 Feb 2021
Well soggy-bats another week of wild and as always not quite there weather. A night where we had several planned teammate groupies bail at the 11th hour (friggin' ZGS and others). The Wombats had a solid night.
let it rain!
16 head to head points and 5 team points.
We continue to show our dominance in speed(eh?) over all by ending in 10th place there. We suck less! We finished the night tied for fourth overall in standings.
MVW – is everyone who showed up. Most notably the few hardy souls that hung out in lot 1 for a wind down – MVW goes to those souls that put to shame TC's baseless accusation of the team being MIA in the parking lot; Readyfur, Motorboat, KY, and moi aka Donneybrook(e).
What is most important is our discussion of LVW tonight. The LVW is unprecedented in its award and merits discussion –
We had an exciting new, yet nervous racer showing his first attempt to play with the big kids on the block – Zachinator. Zach ran his first race running to the age-old principal finish first, wipe out last… However, he lost to a friggin knuckle dragger. Sad, so Sad.
With encouragement from myself and a few others Zach went for it in Race 2. Zach promptly found out his damn dad (aka 'old man') had lowered his binding DINs to protect him. Double premature ejection. That's okay Zach, they won't know better…
Dad, ever the helicopter parent. Next time wrap him in bubble wrap dad. Zach came out of those bindings quicker than ZGS's peeling off his clothes when Brent is around. Hey ZGS, Brent was on mountain last night and he was wet! Think of the potential in that rain!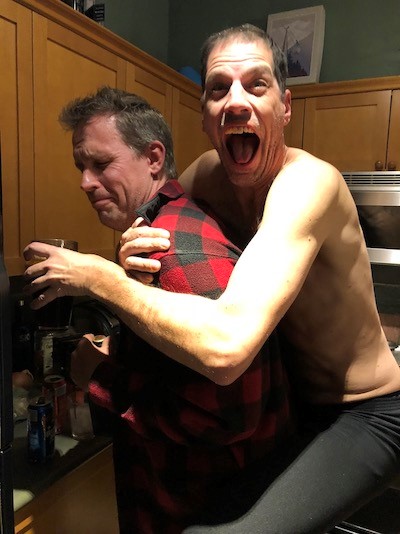 nuff said
LVW goes to Zach's dad
Joe S (one time groupie). What a douche. Tighten those bindings by a notch there Zach.
Post script: A final note on Zach's booby trapped skis - he rallied to click back in and finish sub 90 seconds. That is pretty good Zach!
Post script2: Looking at how Joe Neal's (owner/operator) VSM is running away in the standings makes one wonder; is anyone else starting to think maybe City League needs to enact a salary cap?