Week 5
18 Feb 2021
Okay 'bats another great night for snow and apres parking lot. Race-wise we just didn't get there.
Temperatures were good. It was dumping snow. Conditions were fun fun till daddy put that tree in the way.
The team banner is back looking better than ever (thanks Mikko).
TC was doing his usual thing showing Wombat envy.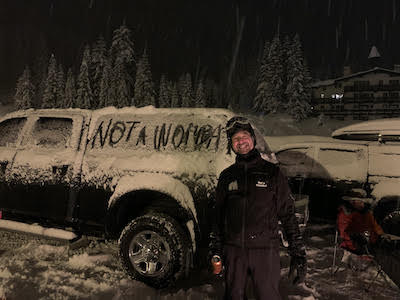 A person standing next to a tank Description automatically generated with medium confidence
Onto this week's results –
Not nearly as strong as last week. 15 points for the night.
MVW goes to Mikko for taking two tonight. Nicely done there doubleshot.
LVW goes to, and sorry Zach would love to show you sympathy for your postrace mishap - nah, Zachinator for missing his first race. Good news is bittersweet as he crushed his second race. That win had to feel good after missing the first race start by 2 minutes. The other (and real for Reg) is missing out on the traditional free pizza and beer we would of soaked his wallet for.
Onto Zachinator's mishap – Zach was running with the bats postrace. The thundering herd was led into the bowels of trees above chair 4 in search of freshies by our secret NASA agent. Zach was looking good until he skidded out of a turn and smacked into a big bastard of a tree feet first. Readyfur and I picked him up and got him back in his gear then down to the parking lot. Checking in on him revealed he had several healthy bowls of cereal and headed out in the car to buy a silencer equipped chain saw. Zach – rule 3: Don't follow Toddler.
Next week fast to slow. We'll need our A game again. Après parking lot séance should be fun. Everyone should plan on attending! Hope everyone enjoyed the Chili as much as Hugh's wife and dog did. Thanks Toddler!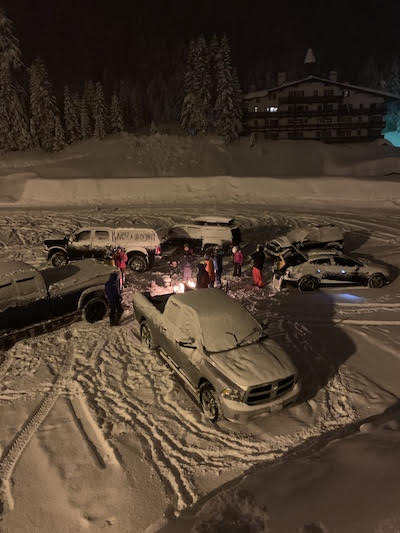 A picture containing outdoor, military vehicle, transport, several Description automatically generated